TRI 5: Integrated Regional Energy Systems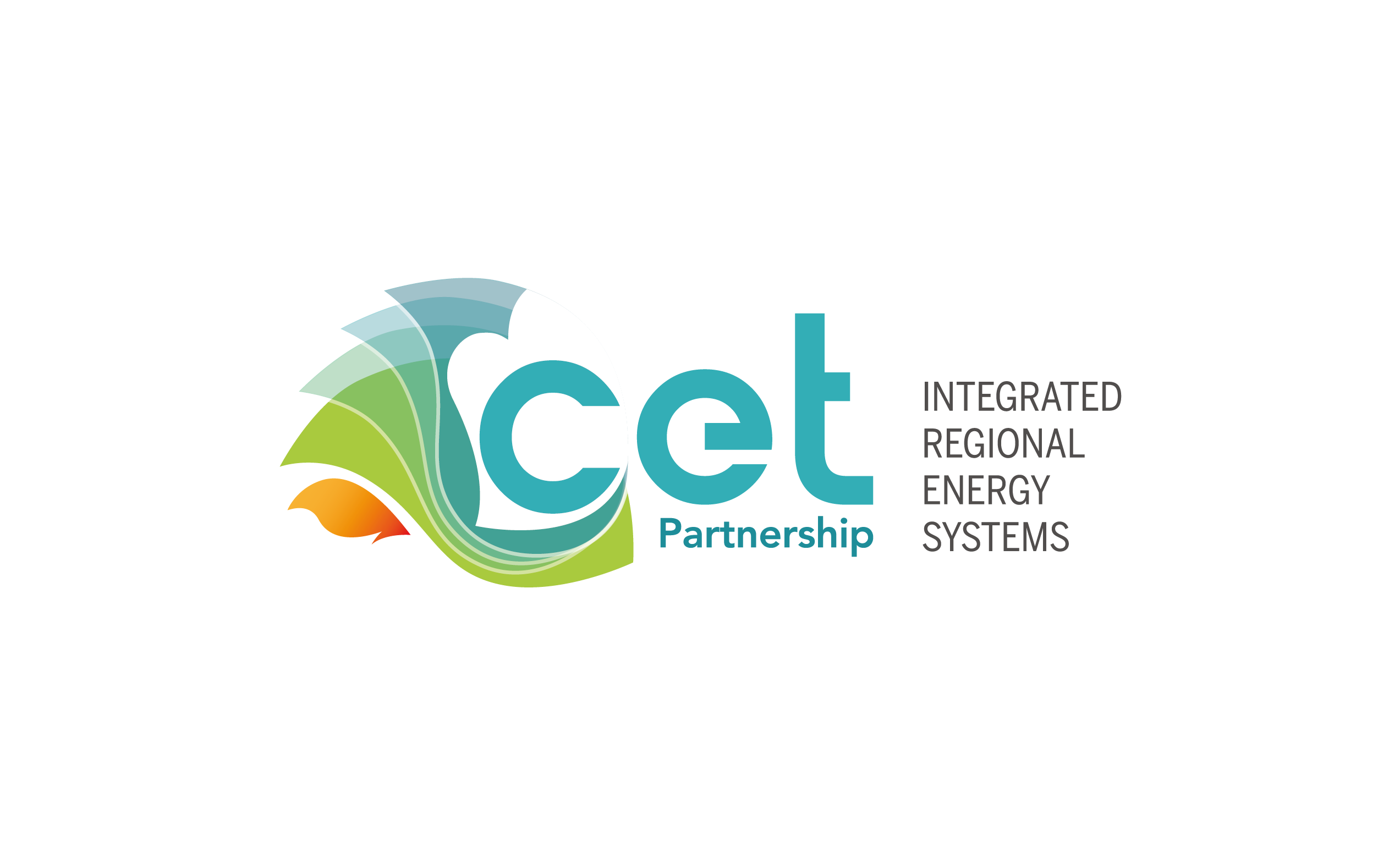 The objective of this Transition Initiative is to build Energy Transition Ecosystems all over Europe, with focus on local and regional energy systems with the need owners of specific regions in the centre, and to bring them together on a European level.
The intention is to fund a portfolio of projects dealing with solutions for different regional characteristics (the characteristic can be described freely by the project consortium, according to their perception of what is relevant in their situation e.g. Industrial, touristic, wind dominated, solar dominated, with or without specific infrastructure like e.g. heating grid, flat or mountains, etc.). The aim is to initiate ecosystems of need owners in a regional / geographical context, intending to develop model system solutions that provide opportunities and synergies for their active participation in the energy system, so that these solutions have a high potential for implementation.
This Transition Initiative does not focus on the development of individual technologies, but on appropriate system solutions in the specific regional context. Scaling up in this context means the replicability of the solution in a similar environment across Europe.
The Three-layer Research Model – an integrated approach going beyond technology
The CETPartnership supports a paradigm shift towards an integrated and comprehensive approach to innovation. Even if technology will be an important factor, a transition can only happen if there is also innovation on organisational, cross-sectoral and societal level. Applicants are therefore encouraged to consider aspects beyond technology.
The Three-layer Research Model as described below is meant as a framework that facilitates a structured approach to fostering innovation in project design. The model originally has a proven track record in Smart Grid development throughout Europe where it has contributed to compatibility, scalability, and replicability and gets further developed within the CETPartnership by expanding the aspects of electricity grids with those for sector coupling. The different layers, which are described below in Figure 1, can be used to clearly describe research and innovation activities that integrate technology with cross-cutting dimensions. In general, the layers represent three domains where barriers to transition may be present. In Figure 1, the symbols with "P" clarify the addressing of the layers within different projects.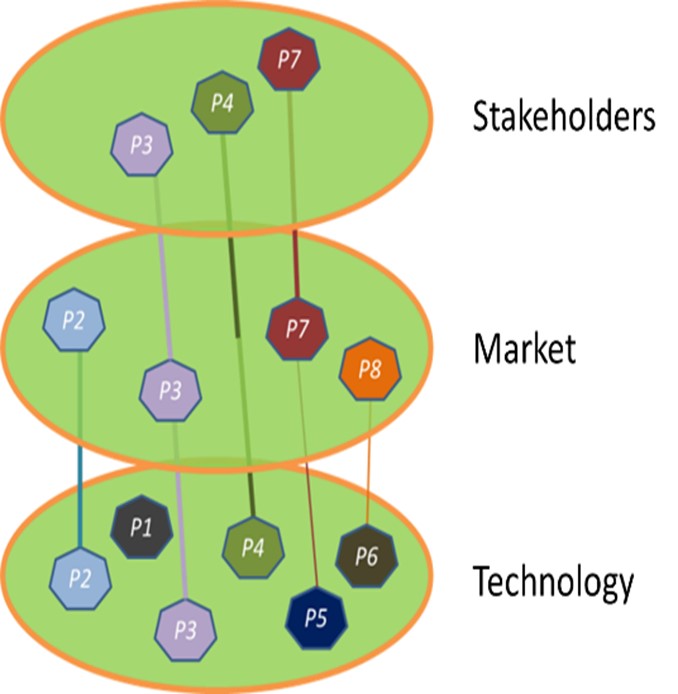 Stakeholders – innovation ecosystem;
This layer leads to a better understanding of local and regional processes, coordination and organisational structures and the implementation paths of innovative energy system stakeholders.
Market– cross sectoral system integration;
This layer includes all financial and business aspects, the cross-sector integration and energy transition processes with other sectors and their frameworks and socio-economic aspects.          
Technology– system Integration;
This layer covers all the technological aspects including renewable energy integration, infrastructure for distributed units, flexibility of different energy carriers, storage, etc.
Figure 1: Integrated, interdisciplinary Three-layer Research Model
The purpose of the Three-layer Research Model is to make room for the expertise in the different dimensions that can define and work on their problems from their specific perspective. The energy transition requires not only technological innovation, but also organisational innovation, new business models, new or reconfigured value chains, new actors in the research and business landscape of energy services and technologies as well as a better integration of different types of end-users into the energy system.
Layer Stakeholders – Innovation ecosystem
Key Question: How can we make the new solutions part of our daily life and business?
Related aspects are e.g. user readiness, circularity, robust transition pathways toward a net zero society, consumer acceptance, education, community/society, social research, tools for system analysis and decision making.
This layer leads to a better understanding of local and regional processes, organisations and the implementation paths of innovative energy systems. Industry stakeholders, researchers, key stakeholders from local and regional authorities, policymakers and end-users need to be involved.
Transnational cooperations are valuable to align different approaches all over Europe and much learning can be made through this diversity (comparisons, similarities, differences, etc.). Such cooperation includes the exchange of knowledge, for example, on typical behaviors observed.
Layer Market – Cross sectoral system integration
Key Question: How do we organise and enable value exchange on different levels, with increasing dynamic?
Related aspects are e.g. market rules and design, regulation, sandboxes, business processes and business models and socio-economic research.
This layer includes all financial and business aspects, the cross-sector integration of intelligent energy systems and energy transition processes with transport, municipal infrastructure or industry, commerce or agriculture.
Transnational cooperation can accelerate smart technologies to create stability challenges in all countries as too different solutions could lead to market failures cross borders. The cooperation of transnational consortia should lead to convergent solutions for various aspects of future energy market structures.
Layer Technology – System integration
Key Question: How do we succeed with the integration of a growing portfolio of energy technologies, energy system components and infrastructures?
Related aspects are e.g. enabling technologies for digitalisation, interoperability, energy technologies, system planning and operation tools, energy distribution and management, hard & software and prototypes, Proof of Concept and demonstration.
This layer includes a technical perspective for renewable energy integration, infrastructure to host distributed generation units, increase flexibility through efficient integration of different energy carriers, and storage, supply-side coordination and demand-side response.
Transnational collaboration aims to bring together a broader range of technical solutions leading to better integration, scalability and portability. Transnational consortia have a better chance of making their results accessible to a wider audience in a sustainable manner. For SMEs, transnational cooperation can open larger markets for innovative technologies.
The Three-layer Research Model related to CETP-projects
The Three-layer Research Model supports the problem-orientation of R&I projects: Projects address challenges in implementing the energy system change, but consider the different dimensions where transition barriers may exist.
The Three-layer Research Model can be used in all applications for the CETPartnership Joint Calls; however, it is a requirement in proposals related to system integration. There more than one of the three layers must be covered in a proposal. To what extent applicants are expected to address the Three-layer Research Model in their proposal is explained in the individual call modules.
Please note that the methods and approaches used to process aspects at the different dimensions should be clearly defined. For projects that involve more than one layer, interdisciplinary teams with partners and/or experts from different backgrounds (e.g. economics, market design, management, social sciences and technology) can be of great value to the project. In case your proposal covers more than one of the layers, it is also important that the risk assessments for the project fully consider all dimensions involved in that project and not just potential technological aspects.
Contact
TRI 5 Office
Angela Berger (FFG, Austria)
TRI5@cetpartnership.eu